I think the hardest part of having kids and pets is trying to keep up with cleaning up after them. In my experience, the messes that they make are usually far from an easy to clean up place. Over the years, I have tried hard to get every tool I can at my disposal to clean such messes, and that's why I have to tell you about my latest favorite: The Bissell Pet Stain Eraser PowerBrush!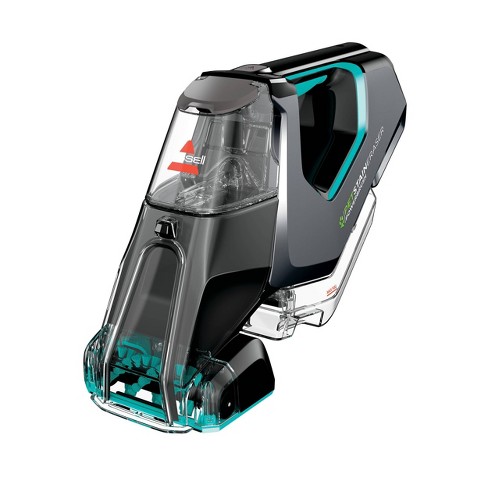 First time user
My first experience with this little beast involves an incident with spilled (and spoiled) chocolate milk in the middle seat of my Pathfinder. The dreaded words "Uh oh" were heard behind me, but the only mess that I saw was actually on JW, so after I cleaned him up, I forgot about it. Until the next afternoon. I had to ride to town and the smell slapped me in the face.
Since I was in a rush, so there was no getting to it then. I sprayed some smell good in my car and hoped for the best in the hot Georgia summer. As soon as I got back home, I decided to pull my new toy out and give it a try. The Bissell Pet Stain Eraser PowerBrush did an amazing job! There was caked up chocolate milk on top of the seat that the spinning brush took off with ease! The smell was taken away almost immediately as well!
Second use
A few days later, Mollie (my beautiful Australian shepherd) threw up all over my favorite chair. I cleaned it up, but the smell was lingering. I pulled my trusty buddy out to give a try again. A few quick minutes and my chair was as good as new!
Becoming a Pro
Now I'm going to give you a tip so you don't make a stupid mistake like I did the third time I used my new toy…
By the time I pulled my little friend out to use a third time, I thought I knew it well enough that I had no worries. SOMEONE (JW) spilled a drink in my bed. Bissell to the rescue! The one thing I didn't think about was my soft mattress not standing up to the spinning brush. Good news though- I was paying attention, and I only have a few strings loose, and not a hole in my mattress! After cleaning the most recent stain, I decided to go over some older ones… It got rid of them ALL!
To sum it up
I honestly could not be more pleased with my Bissell! I have one of their carpet cleaners already, and could probably have used the attachments for one or all of these jobs, but I loved the idea of being able to bring it out to my car without running an extension cord! Another thing I love is the ready made formula for the portable machines! This stuff smells amazing!
If you haven't tried the Bissell Pet Stain Eraser PowerBrush, I highly recommend that you order one today! You will not regret it!
Until next time,
Alicia